Glow in the Dark Party Ideas
Looking for a great party idea? A glow in the dark party is fun, creative, and easy to put together for kids or adults. It's also a great alternative to a traditional Halloween costume party. The key to a glow in the dark party is a dark space, so arrange your party to start after dark or, if you need an earlier start time, opt for a basement space and darken the windows with black paper. And, of course, you'll need to exchange regular lightbulbs with black lights (available at most box and home improvement stores). Invite guests to wear white or neon colors. Everything from the decorations to the food itself can be absolutely glowing, with these simple ideas…
Glow rings underneath plastic plates and cups make a brilliant display for a dining table, and great ambient light during a meal.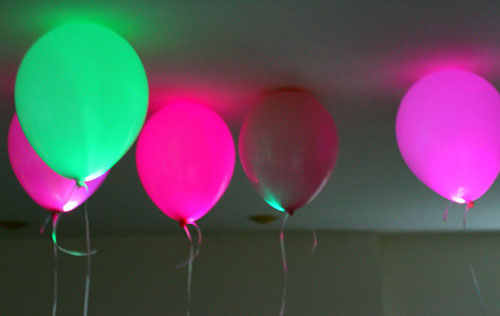 Glow sticks inside of helium balloons make impromptu lighting. A bouquet of balloons makes a great party chandelier.
Wrap cotton candy around glow sticks for perfect party fair.
Use non-toxic neon paints and allow guests to decorate themselves and each other.
Prepare your favorite drink mix with tonic water for a delicious glowing concoction. (The quinine in the tonic water is what makes it glow – perfectly safe!)
Speaking of tonic water, use it to make glow in the dark frosting for your favorite cupcakes.
Glow in the dark duct tape (available at most craft stores) is not only great for decoration, but a good idea for outlining doors or stairs.
Make a glow in the dark Twister mat, or check out other glowing party games here.
Do you have a great glow in the dark party idea? Let us know!